Dustin a chain mail artist in toon town (DRAKYLS)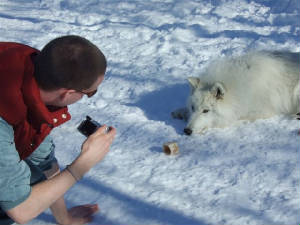 Dustin visits with legend
Coming soon!
We are in the beginning stages of planning our Eco Friendly Discovery Classroom/Gift Shop and Eco Retreat Cabin.
Sheri Gordon Artist/Photographer with Dharma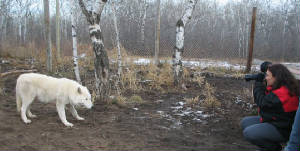 visit Sheris site at www.blackhorsedesign.com this ladys work will knock your socks off!
Forward Note:
WolfEcho Valleys A Wolf Adventure, A Wild Encounter wishes to make your visit and experience with us one you'll never forget. We hope to impress upon the public memories to last a lifetime. And award opportunities just not found in a typical wildlife facility.
Any required donations for any booked appt's are used strictly for the wolves, their upkeep (vet and feed bills) the enrichment and habitat fund. You can be assured you are helping to support a worthy cause and see in person where any donations go.
I strive to make any visit intimate and personal for each person, and take great pride and passion in my work enough to share that world.
All bookings are privately made, doors are not just open to the public to come and go at will. The gift shop and eco center will encompass many exciting gift ideas and more for all age groups and outdoor naturalists
PLEASE NOTE! AWA-AWE is not open to the public the way a typical zoo is. This policy was implemented to cut down on people simply wanting to gawk at a wolf (people can go to zoos for that) and not have pure intent in truly learning and being open to learn, about a highly misunderstood animal, and meeting them in a way just not possible at typical zoos. Time is precious in my life and considered a gift. I simply don't have the time to gift other beings, whom do not have an appreciation, even a base appreciation for all life, and the environment. To me these things are sacred gifts. This does not mean you have to be crazy about wolves, but for those whom are ill intentioned, such mentalities will be weeded out more easily.
Some special org's like make a wish foundation, all donation fees are waived completely. If you are a Teacher, please visit

Visiting Fees
Fees are based on either family/group/couple/single person visit, at the time of booking this must be clarified, people wise. Young children will not be allowed within any wolf habitats. Due to not making a living off of what I do, and working for a living to currently support this venture, fees are a little higher, than simply going to a zoo. However, the experience will be one to remember forever. The visit is not cookie cutter, and will be unique to each person.
If you have ever wanted to learn indepth about wolves from a professional whom can answer all your quesitons, and in a way not dreamt possible, then you have come to the right place!
Fees based on VIP interactive visits
Single ...25.00 (One visit/one person) IF the person would like to be able to interact with any of the ambassador wolves.
couple...$45.00
Groups of 4 (max allowed)... price is $80.00
Photo Taking/Cameras
Please Read! Non pro-cameras will be allowed to be taken into the enclosures, at the owners own risk, no professional cameras/cameras with zoom lens are allowed unless a photography session, and fee is booked, and paid for. You will be asked to sign a photography release upon arrival, this states any pictures taken during a standard visit or VIP visit cannot be used for any professional/commercial purposes (The owner of A Wolf Adventure however for an extra $25.00 can take photos of the interaction to remember their time and experience, these can then be placed on disk and mailed.) I will take pictures for NO extra fee if you do not want them placed on disk, I can down size/emailed to you, this is done as courtesy :)
Note: If you suffer from ringworm outbreaks however this MUST be disclosed (is also on the waiver form you sign) prior to the visit and NO interaction with any of the wolves will be allowed, we apologize for this but ringworm is zoonosis and is transferable from human to animal, animal to human. If you suffer from this please do not book any visit during any outbreak.
Please contact us for other pricing pertaining to your needs.
Can't visit? But still wish to help from afar? Please consider Adopting one of our wolf ambassadors in the *Adopt A Wolf* Program* on the How to Help Page

Sponsorship
Choose your favorite wolf or wolves to sponsor At the
PLEASE NOTE: That anyone sponsoring any of the wolves on a monthly basis are entitled to a pass of free visits.
If you would like to just sponsor one of the wolves for yourself or on behalf of a loved one/friend/in memory of a loved one, including on behalf of your own pet(s) click on the How To Help Page Link above

Photographers Professional & Novice!
Donation rates are based on time booked. Each photographer enters any of the enclosures at his/her own risk, and will be asked to sign a waiver/safety regulations form prior to entering any of the enclosures with myself (owner/founder).
Please keep in mind such an opportunity will be based
on the feelings of the chosen animal(s) for that day, and whether the chosen animal(s) take to the person visiting.
Wolves have their own minds, and though most people are well received by them, for those not well received ...I will as a professional be able to tell immediately. And the animals feelings respected.
My first and foremost priority is for the safety and well being of both wolf and human at all times. A tower/observation building is in the near future plans to be constructed, so that anyone can take professional photos without direct interaction with the wolves, if so chosen.

Photography Rates:
Current Pricing is as follows:
$450.00 for an hour
$550.00 for an hour and a half
add $70.00 for every extra half hour (30 minutes) past the listed hour and a half pricing
Appt's must be booked a min. of 1 week in advance, and fees collected prior to each session. WolfEchoValley's A Wolf Adventure; A Wild Encounter is not responsible for any reason, any damage or loss to equipment.

Picture Taking
Please Note! ANY photos taken of the wolves is a courtesy gifted to visitors, but are not granted legal permission to distribute or use these photos in any other way other than for private use. Such photos are not granted ANY commerical or professional usage, unless a professional fee is paid.
Photo's are only allowed to be taken of the animals using a cheaper or disposable camera, (even if outside of the wolf habitat) unless a professional photo fee is paid and session booked, which would encompass unobstructed shots of the wolves, using more professional cameras.
Please keep in mind the wolves have jobs too, and are ambassadors for their wildborn counterparts, they are giving of *their* time as well
As a courtesy the owner of AWE takes photos of all encounters, free of charge and will send those out to the visitor.

ATTENTION!
Please dont wear sandals if in the summer (hikers (boots) or shoes recommended
Please don't wear your best clothes (wear rugged clothing you don't mind possibly getting dirty)
Wear appropriate clothing for the weather, meaning if in the fall or winter wearing warm enough clothing (hats, toques, mitts ) and foot wear for the elements.
All tours are subject to being cancelled and rescheduled due to bad weather conditions.
Pets are not allowed, wolves do not like dogs/strange animals (they are not familiar with) this will create infighting within our own animals and aggressive behaviors in them
We are a non smoking facility, our area (all forest) is very fire sensitive. If you do smoke we ask you to not smoke during the time you are with us. If you HAVE to have a cigarette we will designate an area for you.
Please be aware we have outhouse services only available to visitors.
Regulations
The wolves are under my control at all times, and are safely contained, young children will not be allowed inside the wolf enclosure. However waivers and permission slips must be signed by parents of any children that come out here prior to any visit. For individuals or families visiting as a member a liability waiver will be asked to be signed upon arrival to the ranch.
IMPORTANT! Teasing the animals will NOT be tolerated and is just cause for removal from the premises. This includes, but is not limited to wildly running about, growling, throwing objects, hissing etc.) The wolves here have shown no aggressive tendencies towards young people or children, but all it takes is one bad incidence such as the above for wolves to think ALL children are aggressive creatures to be feared and hated. You would not be happy if someone came along in the middle of the night into your yard, and started pounding on YOUR window would you?
PLEASE READ! A Wolf Adventure although licensed through the Province, it is NOT a city owned Zoo; it is based on *private* property and thus retains the right to refuse entry to any party/person.